Val Organics Walk In Interview 2023 | Engineer, Supervisor, Chemist & Operator | ITI, Diploma, BE/ B.Tech/B.Sc/M.Sc | April 2023 |
---
Name of institute :- Val Organics Private Limited
Val Organics Walk In Interview

About US :- Val Organics Private Limited was established in 1998, headquartered in Mumbai. Over a period, the Company has grown progressively to become a leading manufacturer of intermediates for Dyestuffs, Pigments, Pharma and Agro-chemical industries. Today we supply to most of the multinational and large renowned Indian companies in their respective fields. We are among the leading exporters of Intermediates in our market segments.Val Organics Private Limited is the leader of Friedel Crafts reactions and distillation processes in the country with high quality products and flexibility of the plant to cater to specific customer needs. Major reactions include Friedel Crafts, Chlorination, Nitration, Reduction and Hydrogenation. With extremely high standards for HSEQ and Process Safety we look forward to a better tomorrow.
Positions :-
Engineer

Supervisor

Chemist 

Operator
Job State (Location) :-
Month Salary :- Not Disclosed by Recruiter
Education & Experience :-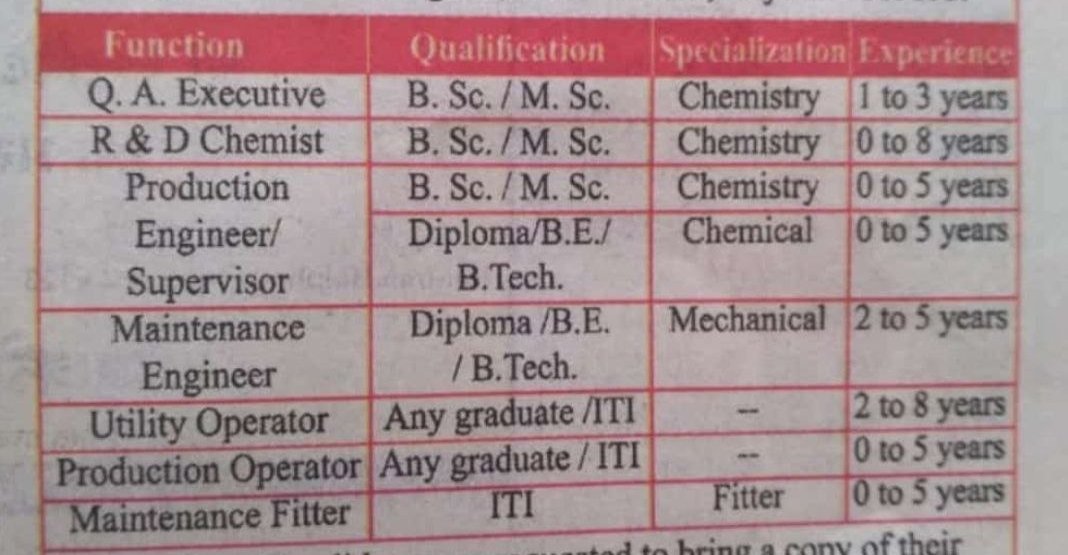 Walk In Interview Details :-
• Date :- 03rd, 4th and 5th April 2023
• Time :- 11:00 AM – 05:00 PM. 
• Venue (Location) :- Val Organics Pvt. Ltd., Plot No.-2201, Road No. 21, GIDC, Sarigam, Tal. – Umbergaon, Dist. – Valsad, Gujarat – 365155. 
Please Note :- Candidates are requested to bring a copy of their updated resume – Email: hr@valorganics.com. 
Important Links :- 
 Disclaimer :-This material or information has been placed on our website for the convenience of our visitors. We does not guarantee or give any kind of assurance or authentication for the above said job posting. Candidates are requested to verify on their own.
DO Not Pay Any Charges For The Jobs.
As per Advertisement.