Patle Eduskills Foundation Campus Placement 2023 | Trainee | 10th, 12th, ITI, Diploma, Graduate Pass | May 2023 |
---
Name of institute :- Patle Eduskills Foundation
Patle Eduskills Foundation Campus Placement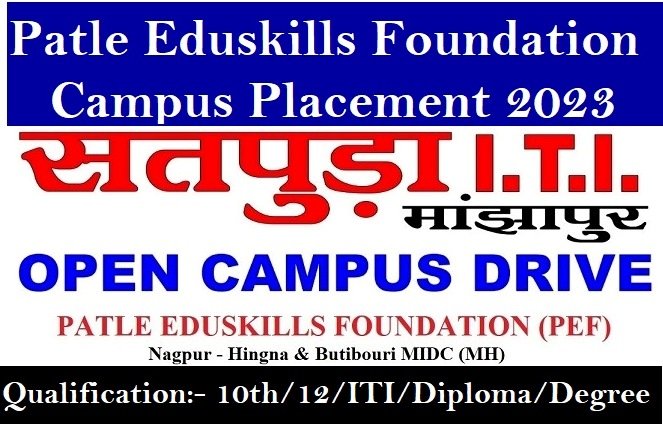 About US :- Patale edaskils phaundeshan 09 aprail 2018 ko nigamit ek nijee hai. ise gair-sarakaaree kampanee ke roop mein vargeekrt kiya gaya hai aur yah rajistraar oph kampaneej, mumbee mein panjeekrt hai. isakee adhikrt sheyar poonjee rupaye hai. 100,000 aur isakee chukata poonjee rupaye hai. 100,000. yah any shiksha mein shaamil hai patale edaskils phaundeshan kee vaarshik aam baithak (ejeeem) pichhalee baar 30 navambar 2021 ko aayojit kee gaee thee aur korporet maamalon ke mantraalay (emaseee) ke rikord ke anusaar, isakee bailens sheet aakhiree baar 31 maarch 2021 ko daakhil kee gaee thee.
Position :-
Job State (Location) :- Nag Put Hingna & Butibouri Midc M.H. 
Monthly Salary :- Rs.13,000/- pm. 
Education :- 10th, 12th, ITI, Diploma, Graduate Pass. 
Age Range :- 18 – 35 Years. 
Campus Placement Details :-
• Date :- 01st June 2023
• Time :- 09:00 AM 
• Venue (Location) :- सतपुड़ा आईटीआई मांझापुर बालाघाट (Madhya Pradesh). 
Important Links :- 
Disclaimer :– All the users are requested that all the jobs broadcast on the Placement naukrilive.co are absolutely free, if you give any money to anyone, then you yourself will be not responsible for it. naukrilive.co does not call any candidate for offer letter. Please be aware of fraudulent SMS OR Calls DO Not Pay Any Charges for the Jobs.