National Institute of Design Campus Placement 2023 | Trainee | Freshers | ITI Pass | January 2023
---
Name of institute :- National Institute of Design 
National Institute of Design Campus Placement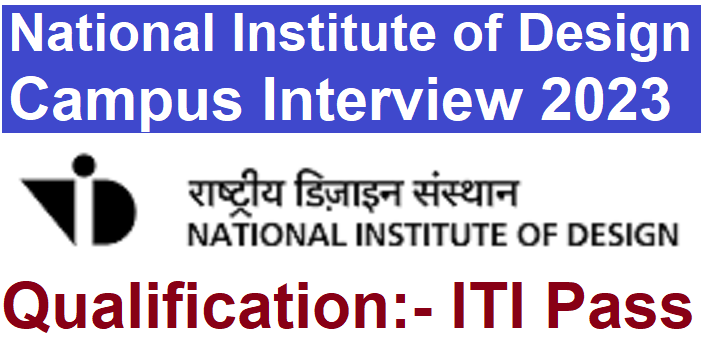 About US :- National Institute of Design (NID) is internationally acclaimed as one of the finest educational and research institutions for Industrial, Communication, Textile and IT Integrated (Experiential) Design. It is a statutory institute under the DPIIT, Ministry of Commerce and Industry, Government of India.
Position :-
Job State (Location) :- Ahmedabad. 
Monthly Salary :- Rs. 8,000/- pm. 
Education :- ITI Pass. 
Trades :- COPA, IT & ESM, Wireman, Electrician, AC & Refrigeration, Draughtsman Civil, Carpenter, Offset Printer/DTP, Plumber, Fitter, Turner, Welder, Model Maker, Tool & Die Maker, Painter. 
Experience :- Freshers. 
Campus Placement Details :-
Date :- 13th January 2023. 
Venue (Location) :- ITI Saraspur, Opp. Gurudwara, Saraspur, Ahmedabad. 
Important Links :- 
अस्वीकरण :- सभी उपयोगकर्ताओं से अनुरोध है कि कम्पास प्लेसमेंट जॉब्स Mysarkarinaukri.co पर प्रसारित सभी नौकरियां बिल्कुल मुफ्त हैं, यदि आप कोई पैसा देते हैं, तो आप स्वयं जिम्मेदार होंगे। Mysarkarinaukri.co ऑफर लेटर के लिए किसी भी उम्मीदवार को नहीं बुलाती है। कृपया धोखाधड़ी वाले एसएमएस या कॉल से सावधान रहें, नौकरियों के लिए कोई शुल्क नहीं देना है |
सावधान रहें और सतर्क रहें।