Indo Autotech Ltd Campus Placement 2023 | Freshers | Operators | ITI Pass | 200+ Posts | January 2023 |
---
Name of institute :- Indo AutoTech Ltd.
Indo Autotech Ltd Campus Placement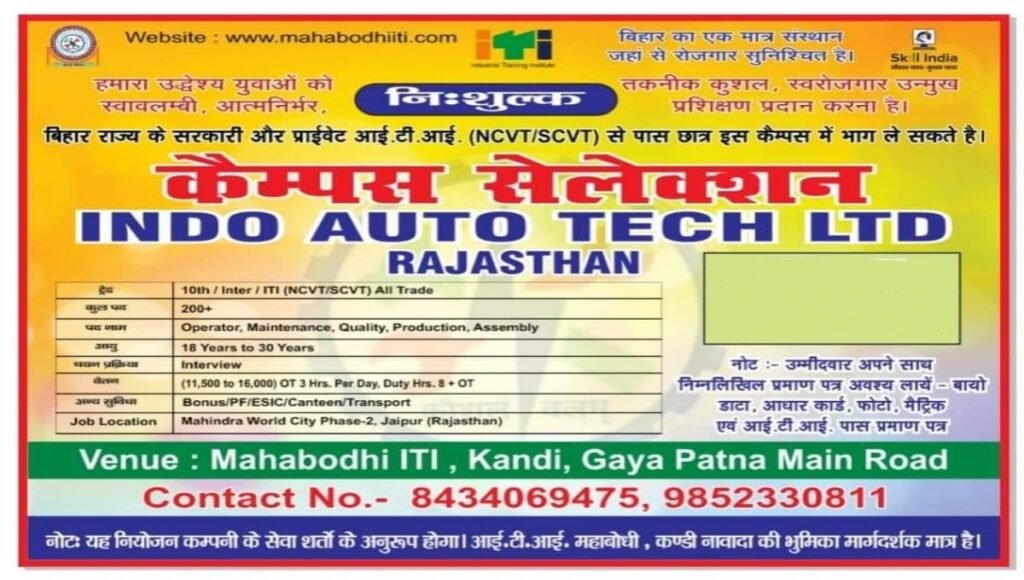 About US :- We are manufacturers and suppliers of precision sheet metal components,tubular parts and assemblies used in Automobile Industry.With an impressive track record in meeting stringent quality requirements and a commitment to supply best quality sheet metal components & tubular components at the lowest prices.
Position :-
Job State (Location) :- Jaipur, Rajasthan. 
Monthly Salary :- Rs.11,500/- to  16,000/- pm. 
Total Vacancies :- 200+ Posts. 
Education :- ITI Pass (All Trades). 
Experience :- Fresher. 
Age Range :- 18 to 30 Years. 
Campus Placement Details :-
• Date : 21th January 2023. 
• Time : 10:00 AM
• Venue(Location) : Mahabodhi ITI, Kandi, Gaya, Patna, Bihar. 
Important Links :- 
Note :- कैंपस प्लेसमेंट में जाने सा पहले ऑफिसियल नोटिफिकेशन अवश्य देखे |
अस्वीकरण :- सभी उपयोगकर्ताओं से अनुरोध है कि कम्पास प्लेसमेंट जॉब्स Mysarkarinaukri.co पर प्रसारित सभी नौकरियां बिल्कुल मुफ्त हैं, यदि आप कोई पैसा देते हैं, तो आप स्वयं जिम्मेदार होंगे। Mysarkarinaukri.co ऑफर लेटर के लिए किसी भी उम्मीदवार को नहीं बुलाती है। कृपया धोखाधड़ी वाले एसएमएस या कॉल से सावधान रहें, नौकरियों के लिए कोई शुल्क नहीं देना है |
सावधान रहें और सतर्क रहें।