Atibir Industries Campus Placement 2023 | Trainee | ITI Pass | February 2023 |
---
Name of institute :- Atibir Industries
Atibir Industries Campus Placement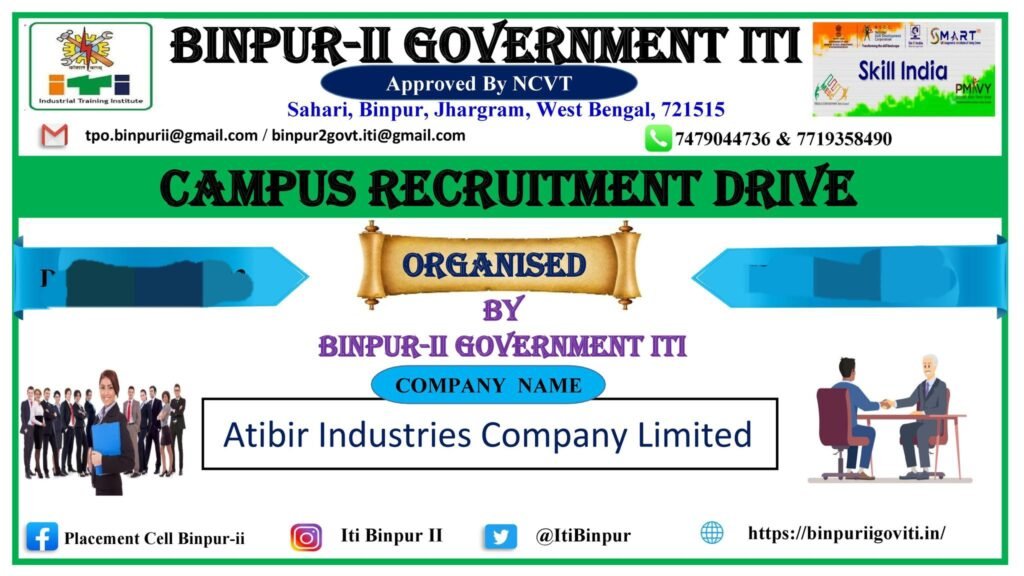 About US :- Atibir Industries One of the largest manufacturers of steel through secondary route in Eastern India, specializing in production of TMT bars from a combination of processes from a run of mined raw mineral of iron ore to agglomerates of Sinter & Pellets to smelting through BF Route and DRI route . The entire process of manufacturing TMT bars from iron ore to steel wire and nails, makes Atibir stand apart and the only unit of its kind in this part of the country.
Position :-
Job State (Location) :- As per Company Requirement.
Monthly Salary :- Not Disclosed by Recruiter.
Education :- ITI in Fitter, Electrician & Welder.
Experience :- Freshers
Campus Placement Details :-
• Date : 07th February 2023
• Time : 09:30. AM
• Venue(Location) : BINPUR- II Government ITI , Sahari, Binpur, Jhargram, West Bengal, 721515.
Important Links :- 
Note :- कैंपस प्लेसमेंट में जाने सा पहले ऑफिसियल नोटिफिकेशन अवश्य देखे |
Disclaimer :- This material or information has been placed on our website for the convenience of our visitors. We does not guarantee or give any kind of assurance or authentication for the above said job posting. Candidates are requested to verify on their own.
DO Not Pay Any Charges For The Jobs.
As per Advertisement.